FTISLAND Discography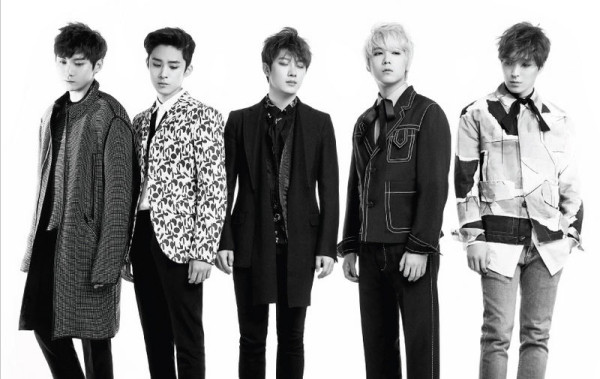 FTISLAND Discography
FTISLAND (FT아일랜드) is a Korean band consisting of five members. They debuted in Korea in 2007 with the album Cheerful Sensibility under FNC ENTERTAINMENT. One year later they debuted as indie artists in Japan under AI Entertainment with the mini-album Prologue of FTISLAND -Soyogi-. In 2010, they changed labels in Japan and officially debuted as major artists under Warner Music Japan. FT stands for "Five Treasure" and means that each member is a treasure of talent in their own right. The official color of their fan club, Primadonna, is yellow.
"Korean Discography"
Albums
[2007.06.08] Cheerful Sensibility
[2007.12.06] The Refreshment (Repackage Album)
[2008.08.25] Colorful Sensibility
[2009.05.15] 2nd Live Concert Rock Prince (Live Album)
[2009.07.16] Cross & Change
[2009.10.26] Double Date (Repackage Album)
[2010.04.15] JAPAN SPECIAL ALBUM VOL.1
[2011.10.10] MEMORY IN FTISLAND (Cover Album)
[2012.09.10] FIVE TREASURE BOX
[2015.03.23] I WILL
Mini-Albums
[2008.10.17] Colorful Sensibility (Part 2)
[2009.02.11] Jump Up
[2010.08.26] Beautiful Journey
[2011.05.24] Return
[2012.01.31] Grown-Up
[2013.09.23] THANKS TO
[2013.11.18] THE MOOD
Best Albums
[2014.10.02] ALL ABOUT
Compilation Albums

[2007.11.20] In-Soon Is Pretty OST (#1 I Think I Saw Love)
[2008.02.28] On Air OST (#1 One Word)
[2011.07.20] You've Fallen for Me OST Part.4 (#2 Kkogeun Anideorado)
Digital Singles
[2008.04.03] 2008 Yeon Ga FTISLAND (연가)
[2009.10.13] One Date
[2010.10.20] TWENTYth Urban
[2015.03.17] To The Light
"Japanese Discography"
Albums
[2009.12.16] So Long, Au Revoir
[2011.05.18] FIVE TREASURE ISLAND
[2012.05.16] 20[twenty]
[2013.06.12] RATED-FT
[2014.05.28] NEW PAGE
[2015.05.13] 5…..GO
Mini-Albums
[2008.06.07] Prologue of FTISLAND -Soyogi-
Best Albums
[2011.09.28] Best Recommendation For JAPAN -Our Favorite Korean Songs
[2013.09.18] THE SINGLES COLLECTION
Singles
[2008.12.17] The One
[2009.04.22] I believe myself
[2009.10.21] Raining
[2010.05.19] Flower Rock
[2010.07.14] Brand-new days
[2010.11.17] So today…
[2011.04.20] SATISFACTION
[2011.07.27] Let it go!
[2011.11.30] Distance
[2012.04.18] NEVERLAND
[2012.08.08] TOP SECRET
[2012.11.28] Polar Star
[2013.03.27] You Are My Life
[2013.07.24] Shiawa Theory (シアワセオリー; Theory of Happiness)
[2014.01.22] beautiful
[2014.04.02] Mitaiken Future (未体験Future; Non-experience Future)
[2014.10.15] To The Light
[2015.09.16] PUPPY
Digital Singles
[2013.05.26] FREEDOM
[2013.05.26] Orange Iro no Sora (オレンジ色の空)
[2013.07.13] Shiawa Theory (シアワセオリー)
Download Links
~How to Download?~
Please buy official/original to support the artists, all content in this web is for promotional purpose only, we dont responsible for all users.