[Single] The Osomatsu-sans with Matsuno-ke 6 Kyoudai – Otona÷6 × Kodomo×6 [MP3/320K/RAR][2018.02.28]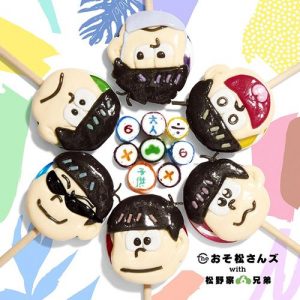 Artist: Akiko Yano, Daisuke Ono, Dr. kyOn, Hiroko Shigezumi, Hiroshi Kamiya, Jun Fukuyama, Keiichi Suzuki, Kenji Yoshiura, Ko Shibasaki, Miyu Irino, Ray Ohara, Shigeru Suzuki, Taeko Onuki, Takahiro Sakurai, Tamio Okuda, Tohru Fujimura, Tomohiko Gondo, Tomohisa Ishikawa, Yoshiyuki Sahashi, Youhei Matsui, Yuichi Nakamura, Yukihiro Takahashi
Category: Single
Series: Osomatsu-san
M-01 – TV Anime "Osomatsu-san 2nd Season" Ending Theme
The Osomatsu-sans are Yukihiro Takahashi, Keiichi Suzuki, Taeko Onuki, Akiko Yano, Tamio Okuda, Ko Shibasaki, Hiroko Shigezumi, Ray Ohara, Yoshiyuki Sahashi, Dr. kyOn, Shigeru Suzuki, Tomohiko Gondo.
Matsuno-ke 6 Kyoudai are Osomatsu Matsuno (cv. Takahiro Sakurai), Karamatsu Matsuno (cv. Yuichi Nakamura), Choromatsu Matsuno (cv. Hiroshi Kamiya), Ichimatsu Matsuno (cv. Jun Fukuyama), Jyushimatsu Matsuno (cv. Daisuke Ono) and Todomatsu Matsuno (cv. Miyu Irino)
01. 大人÷6×子供×6.mp3
02. 大人÷6×子供×6 (おそ松 ver.).mp3
03. 大人÷6×子供×6 (カラ松 ver.).mp3
04. 大人÷6×子供×6 (チョロ松 ver.).mp3
05. 大人÷6×子供×6 (一松 ver.).mp3
06. 大人÷6×子供×6 (十四松 ver.).mp3
07. 大人÷6×子供×6 (トド松 ver.).mp3
08. 大人÷6×子供×6 (MUTSUGODELIC Remix).mp3
09. 大人÷6×子供×6 (instrumental).mp3
Download Links
~How to Download?~
Please buy official/original to support the artists, all content in this web is for promotional purpose only, we dont responsible for all users.