HALCALI – Ongaku no Susume (音樂ノススメ) [Album]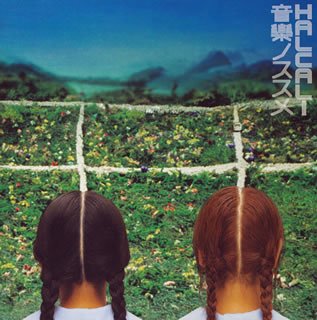 Download HALCALI – Ongaku no Susume (音樂ノススメ) [Album]
Information
Ongaku no Susume is the second studio album released by HALCALI. The jacket was re-designed and re-released to celebrate the album passing the 100,000 sales mark. However, this also coincided with a copyright dispute over the original cover and booklet. Nagi Noda, who designed the original booklet, 'borrowed' the idea from artist Aida Makoto's "Azi Michi" without giving any credit whatsoever. The real reason behind the re-issue is still a matter of debate. The re-released version comes housed in a white slip case, while the booklet is a pink and purple version of the slip case cover. Both the original booklet, and the redesigned booklet are accordion-fold style. The album reached #24 on the Oricon weekly charts and charted for 8 weeks, selling 13,417 copies.
Artist
Album
Ongaku no Susume (音樂ノススメ)
Released
Tracklist
INTRODUCTION
Fuwa Fuwa Brand New (フワフワ・ブランニュー)
Marching March (マーチングマーチ)
Strawberry Chips (ストロベリーチップス)
Hare Tokidoki (晴れ時ドキ)
OBOROGE COPY VIEW
HISTORY
Shibafu feat. Tanikawa Juntaro (芝生)
Wakakusa DANCE feat. Utamaru (RHYMESTER) (若草DANCE)
BABY BLUE!
Densetsu no Futari (伝説の2人)
Continued (コンティニュード)
Download HALCALI – Ongaku no Susume (音樂ノススメ) [Album]
[2004.11.24] HALCALI – Ongaku no Susume (音樂ノススメ) [Album] – eimusics.com
Download Links
~How to Download?~
Please buy official/original to support the artists, all content in this web is for promotional purpose only, we dont responsible for all users.