Aqua Timez Discography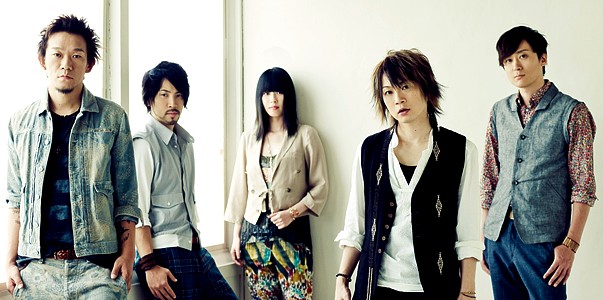 Aqua Timez is a Japanese pop/rock band formed in 2003 and debuted in 2005 under Epic Records Japan, a sublabel of Sony Music Entertainment. Vocalist Futoshi, bassist OKP-STAR, drummer TASSHI, keyboardist mayuko and guitarist Daisuke make the line-up of Tokyo-based band.
Albums
Best Albums
[2009.10.14] The BEST of Aqua Timez
[2015.08.25] 10th Anniversary Best Blue
[2015.08.25] 10th Anniversary Best Red
Mini-Albums
[2004.04.24] Kanashimi no Hate ni Tomoru Hikari (悲しみの果てに灯る光; The Light Burns at the End of the Sadness) (Aqua Times) (Self-Production)
[2005.08.24] Sora Ippai ni Kanaderu Inori (空いっぱいに奏でる祈り) (Indies)
[2006.04.05] "Nanairo no Rakugaki" (「七色の落書き」; "Seven-colored Graffiti")
Singles
[2004.09.19] Itsumo Issho (いつもいっしょ; Always Together ) (Aqua Times) (Self-Production)
[2006.07.05] Ketsui no Asa ni (決意の朝に; Decision in the Morning)
[2006.11.22] Sen no Yoru wo Koete (千の夜をこえて; Cross Over Thousand of Nights)
[2007.05.09] Shiori (しおり; Guidebook)
[2007.08.01] ALONES
[2007.10.31] Chiisa na Tenohira (小さな掌; The Little Palm of Hand)
[2008.05.08] Niji (虹; Rainbow)
[2008.10.01] Natsu no Kakera (夏のかけら; Pieces of a Summer)
[2009.01.14] Velonica
[2009.03.04] STAY GOLD
[2009.07.29] Plumeria ~Hana Uta~ (プルメリア ~花唄~; Plumeria ~Flower Song~)
[2010.01.27] Ehagaki no Haru (絵はがきの春; Postcard of Spring)
[2010.10.13] GRAVITY ø
[2011.01.26] Mayonaka no Orchestra (真夜中のオーケストラ; Midnight Orchestra)
[2012.02.22] MASK
[2012.08.22] Tsubomi (つぼみ; Bud)
[2013.11.27] Eden (エデン)
[2014.04.02] Tegami Henshin (手紙返信)
[2015.05.06] Negao (ねがお; Sleeping Face)
[2015.06.03] Shingarongu (シンガロング)
[2014.12.03] Ikite (生きて; Alive)
[2015.08.05] Saigo Made II (最後まで II)
[2016.09.28] 12gatsu no Himawari (12月のひまわり; December Sunflower)
Download Links
~How to Download?~
Please buy official/original to support the artists, all content in this web is for promotional purpose only, we dont responsible for all users.