Shiina Ringo Discography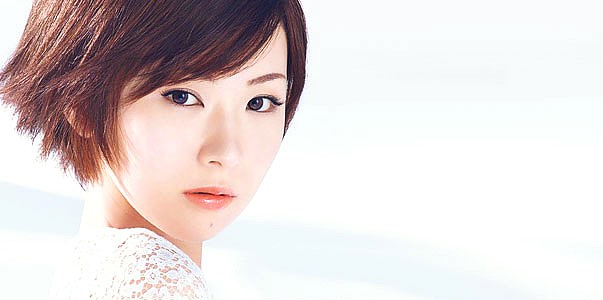 Shiina Ringo Discography
Shiina Ringo (椎名林檎) is a famous Japanese musician, who is recognizable for her nasal voice. Her styles range from jazz to rock, and experimental to enka. In 1998 she debuted with the single "Koufukuron". In 1999 Shiina became famous from her single "Koko de Kiss Shite.", which broke the top 10 on Oricon charts. In 2003, nearing the end of her ninth single and third studio album, Shiina Ringo formed the band Tokyo Jihen which received similar success. In 2006, it was announced that Shiina would once again release solo music. On January 11th, 2012, Shiina announced that Tokyo Jihen would disband on February 29th following a final farewell tour.
Albums
[1999.02.24] Muzai Moratorium (無罪モラトリアム; Moratorium of Innocence)
[2000.03.31] Shouso Strip (勝訴ストリップ; Lawsuit Winning Strip)
[2000.09.13] Zecchoushuu (絶頂集; Climax Works) (3CD Single Set)
[2002.05.27] Utaite Myouri ~Sono Ichi~ (唄ひ手冥利~其ノ壱~; A Singer's Pride) (Cover Album)
[2003.02.23] Kalk Samen Kuri no Hana (加爾基 精液 栗ノ花; Lime, Semen, Chestnut Flower)
[2007.02.21] Heisei Fuuzoku (平成風俗; Heisei Sex Service)
[2008.07.02] Watashi to Houden (私と放電; Me and Electric Discharge) (B-side Best Album)
[2009.06.24] Sanmon Gossip (三文ゴシップ; Superficial Gossip)
[2013.11.13] Ukina (浮き名; Talk of the Town) (Collaboration Best Album)
[2013.11.13] Mitsugetsu Shou (蜜月抄; Honeymoon Excerpt) (Live Best Album)
[2014.03.19] To Taikai Heisei Nijyugo Nen Kamiyama-Cho Taikai
[2014.05.27] Gyakuyunyuu ~Kouwankyoku~ (逆輸入 ~港湾局~; Reimportation ~Port and Harbor Authority~) (Self-cover album)
[2014.11.05] Hi Izuru Tokoro (日出処; Land of the Rising Sun)
[2015.06.24] Chu Xian San Chi
Singles
[1998.05.27] Koufukuron (幸福論; Theory of Happiness)
[1998.09.09] Kabukichou no Joou (歌舞伎町の女王; Queen of Kabukicho)
[1999.01.20] Koko de Kiss Shite. (ここでキスして。; Kiss Me Here.)
[1999.10.27] Honnou (本能; Instinct)
[1999.10.27] Koufukuron (Re-Release) (幸福論; Theory of Happiness)
[2000.01.26] Gips (ギブス; Plaster Cast)
[2000.01.26] Tsumi to Batsu (罪と罰; Crime and Punishment)
[2001.03.28] Mayonaka wa Junketsu (真夜中は純潔; Midnight is Pure)
[2003.01.22] STEM ~Daimyou Asobi Hen~ (茎(STEM) ~大名遊ビ編~; Stem ~Daimyo's Play Version~)
[2003.11.25] Ringo no Uta (りんごのうた; Apple Song)
[2006.11.11] Karisome Otome (DEATH JAZZ ver.) (カリソメ乙女; Temporary Virgin)
[2007.01.17] Kono Yo no Kagiri (この世の限り; The Limits of this World) (Shiina Ringo x Saito Neko + Shiina Junpei)
[2009.05.27] Ariamaru Tomi (ありあまる富; Excessive Wealth)
[2011.11.02] Carnation (カーネーション)
[2013.05.27] Irohanihoheto / Kodoku no Akatsuki (いろはにほへと / 孤独のあかつき; Though The Bright Colors May Be
Fragrant / In the Event Of Loneliness)
[2014.06.11] NIPPON
[2014.10.01] Arikitarina Onna (ありきたりな女; Ordinary Woman)
[2015.02.25] Shijou no Jinsei (至上の人生; Supreme Life)
[2015.05.13] Saihate ga Mitai (最果てが見たい; I Want to See the Very End)
[2015.08.05] Nagaku Mijikai Matsuri / Kamisama, Hotokesama (長く短い祭 / 神様、仏様; Long and Short Festival / God, Buddha)
Download Links
~How to Download?~
Please buy official/original to support the artists, all content in this web is for promotional purpose only, we dont responsible for all users.