Sakura Gakuin Discography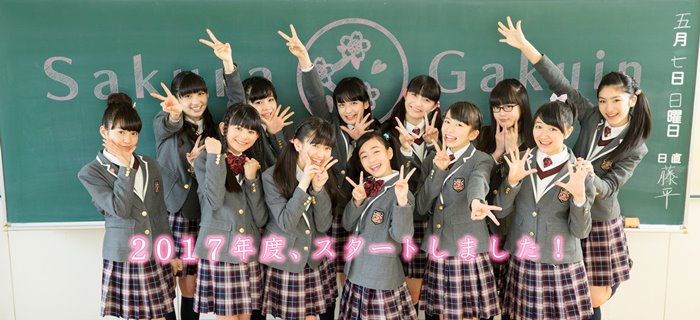 Sakura Gakuin (さくら学院; Cherry Blossom Academy) is a Japanese pop idol group under the agency Amuse and the label Universal Music Japan whose music and activities are based on the Japanese school system. Just like in Japanese schools, the members of Sakura Gakuin wear a special uniform. The Japanese school year ends at the end of March, and this is when Sakura Gakuin release their albums. Singles are released at various times throughout the year. Also just like Japanese schools, Sakura Gakuin have "school clubs" with a variety of themes. When a member of Sakura Gakuin graduates from ninth grade in real life, she also graduates from the group. Sakura Gakuin was formed in April 2010 with their first appearance at TOKYO IDOL FESTIVAL in August. Their major debut single, entitled "Yume ni Mukatte / Hello! IVY", was released on December 8, 2010 under the label TOY'S FACTORY. One single by the school club / subunit Twinklestars was distributed by Goflag, and now they are signed with Universal J (Universal Music Japan).
Albums
Best Albums
Singles
Download Links
~How to Download?~
Please buy official/original to support the artists, all content in this web is for promotional purpose only, we dont responsible for all users.