POLYSICS Discography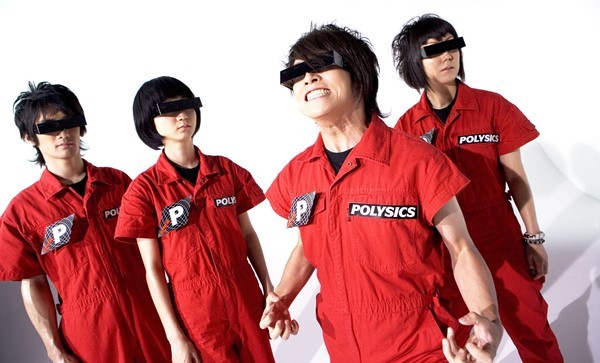 POLYSICS Discography
POLYSICS is a Japanese rock band from Tokyo signed to Sony Music Entertainment. They create high energy music, inspired by the American bands Devo and The Tubes, and the Japanese bands P-Model and Yellow Magic Orchestra. Their song lyrics often consist of Japanese, English, and gibberish. The band has been noted for their energetic live performances and their trademark boiler suits and straight-bar glasses. They are named after a brand of synthesizers, the Korg Polysix.
Albums
[1999.02.25] 1st P
[1999.10.22] A・D・S・R・M!
[2000.09.20] NEU
[2001.06.06] ENO
[2002.07.24] FOR YOUNG ELECTRIC POP
[2003.10.29] National P
[2005.10.19] Now is the time!
[2007.02.28] KARATE HOUSE
[2008.04.23] We ate the machine
[2009.02.25] 1st P / A・D・S・R・M!
[2009.09.16] Absolute POLYSICS
[2011.03.09] Oh! No! It's Heavy Polysick!!!
[2012.02.29] 15th P
[2012.12.05] Weeeeeeeeee!!!
[2014.01.15] ACTION!!!
Mini-Albums
[2002.04.24] LO-BITS
[2003.05.21] Kaja Kaja Goo (カジャカジャグー)
[2004.10.12] Peel Session Live
[2010.12.08] eee-P!!!
[2013.10.09] MEGA OVER DRIVE
Live Albums
[2000.02.25] LIVE IN JAPAN / 6-D
[2006.03.01] Live at KEXP
[2008.10.29] We ate the show!!
Best Albums
[2004.05.19] POLYSICS OR DIE!!!!
[2010.01.13] BESTOISU!!!!
Remix Albums
[2000.02.25] 6-D
Singles
[1999.04.25] Plus Chicker
[2000.04.19] XCT
[2000.06.21] each life each end
[2001.04.25] NEW WAVE JACKET
[2005.04.27] Baby BIAS
[2005.08.17] Coelakanth Is Android (シーラカンスイズアンドロイド)
[2006.06.21] Electric Surfin' Go Go
[2006.10.25] You-You-You
[2007.01.31] Catch On Everywhere
[2007.11.21] Rocket
[2008.03.19] Pretty Good
[2009.03.11] Shout Aloud! / Beat Flash
[2009.06.11] Young OH! OH!
[2012.08.22] Lucky Star
[2012.10.24] Everybody Say No
Download Links
~How to Download?~
Please buy official/original to support the artists, all content in this web is for promotional purpose only, we dont responsible for all users.