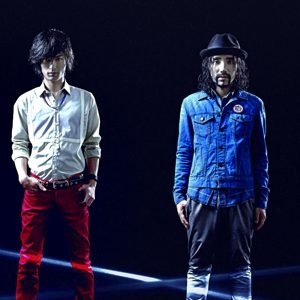 Artist:
Category:
Added:
January 19, 2015
Updated:
3 years ago
View:
5,672 views
Comment:
0 comments
NICO Touches the Walls Discography (Download)
NICO Touches the Walls is a Japanese rock band signed to Sony Music Entertainment's sub-label Ki/oon Records and managed by A-Sketch. The group was formed in 2004, in the same year, they won the Lotte Prize at the Yamaha Teen Music Festival and got a chance to sign a contract with Sony Music Entertainment. They made their major debut in 2007 with the mini-album How are you?.
Discography
Studio Albums
[2008.09.24] Who are you?
[2009.11.25] Aurora (オーロラ)
[2011.04.06] PASSENGER
[2011.12.07] HUMANIA
[2013.04.24] Shout to the Walls!
[2014.02.05] NICO Touches the Walls no Best (ニコ タッチズ ザ ウォールズ ノ ベスト)
[2015.02.04] Howdy!! We Are Aco Touches The Walls
[2016.03.16] Yuki mo Ai mo Nainante
Mini-Albums
[2006.02.02] Walls Is Beginning
[2006.10.18] runova x handover
[2007.11.21] How are you?
Singles
[2007.06.13] Primitive-disc "Eden" (Primitive-disc「エデン」)
[2008.02.20] Yoru no Hate (夜の果て)
[2008.06.04] THE BUNGY
[2008.08.13] Broken Youth
[2009.05.13] Bigfoot (ビッグフット)
[2009.08.12] Hologram (ホログラム)
[2009.11.04] Kakera -Subete no Omoi-tachi e- (かけら -総べての想いたちへ-)
[2010.08.11] Sudden Death Game (サドンデスゲーム)
[2011.01.12] Diver
[2011.08.17] Te wo Tatake (手をたたけ)
[2012.05.16] Natsu no Daisankakkei (夏の大三角形)
[2012.12.19] Yume 1-gou (夢1号; No. 1 Dream)
[2013.03.27] Mr.ECHO
[2013.07.10] Niwaka Ame ni mo Makezu (ニワカ雨ニモ負ケズ)
[2014.03.05] Rawhide (ローハイド)
[2014.06.11] Tenchi Gaeshi (天地ガエシ)
[2014.08.20] TOKYO Dreamer
[2015.06.24] Massugu na Uta (まっすぐなうた)
[2015.09.02] Uzu to Uzu (渦と渦)
[2016.05.03] Strato (ストラト)