GACKT Discography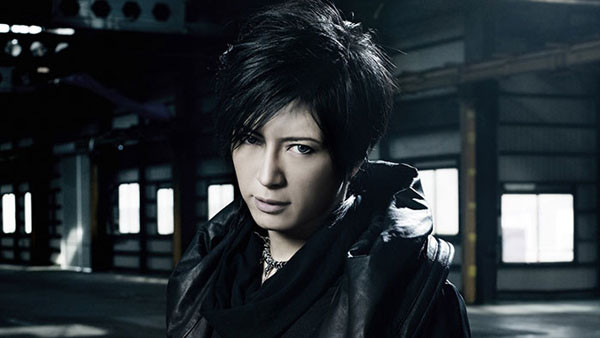 GACKT Discography
GACKT (ガクト) is a Japanese rock singer-songwriter, multi-instrumentalist, and actor.
He is referred to by his mononymous stage name (since June 2009, his name has been stylized as GACKT), and his real name is publicly unknown. He is the former vocalist of his founding band Cains:Fell and now defunct Visual-Kei band MALICE MIZER. It was during the time in MALICE MIZER that he began to gain some national recognition.
Besides his music has been used as theme songs for various anime, television dramas, and video games, such as New Fist of the North Star, Bujingai, Dirge of Cerberus: Final Fantasy VII, and Kamen Rider Decade, among others, he also done things other singer from Japan are not willing to do. For example; co-starred and wrote the 2003 film Moon Child, and acted in the 2007 NHK drama Fūrin Kazan as Uesugi Kenshin, as well in 2008 American film Bunraku that was released in the fall of 2011 on DVD.
Albums
[2000.04.26] MARS
[2001.04.25] Rebirth
[2002.06.19] MOON
[2003.12.03] Crescent
[2005.02.14] Love Letter
[2005.06.16] Love Letter – for Korean Dears
[2005.09.21] DIABOLOS
[2009.12.02] RE:BORN
[2016.??.??] LAST MOON
Best Albums
Mini Albums
[1999.05.12] Mizérable
Live Albums
Remix Albums
[2015.07.01] GACKTracks -ULTRA DJ ReMIX-
Soundtracks
[2014.10.01] MOON SAGA Yoshitsune Hiden I & II -PREMIUM SOUNDTRACKS-
Boxes
[1999.06.30] Mizérable Single Box
[2006.12.13] 12-gatsu no Love songs ~COMPLETE BOX~ (12月のLove songs~COMPLETE BOX~)
[2008.10.29] nine*nine
Singles
[1999.07.09] Mizérable
[1999.08.11] Vanilla
[1999.11.03] Remix Of Gackt
[2000.02.09] Mirror
[2000.02.16] OASIS
[2000.03.08] seki-ray (鶺鴒~seki-ray~; Wagtail)
[2000.08.30] Story (再会~Story~)
[2000.11.16] Secret Garden
[2001.03.14] Kimi no Tame ni Dekiru Koto (君のためにできること; Anything for You)
[2001.09.05] ANOTHER WORLD
[2001.12.16] 12-gatsu no Love song (12月のLove song; December's Love Song)
[2002.04.24] Wasurenai Kara (忘れないから; I Won't Forget)
[2002.11.27] 12-gatsu no Love song / December Love (12月のLove song / December Love)
[2003.03.19] Kimi ga Oikaketa Yume (君が追いかけた夢; You Chased a Dream)
[2003.06.11] Tsuki no Uta (月の詩; Moon Song)
[2003.06.25] Lu:na / OASIS
[2003.11.12] Last Song
[2003.12.03] 12-gatsu no Love song / Shíèryuè De Qínggê (12月のLove song / 十二月的情歌)
[2004.10.27] Kimi ni Aitakute (君に逢いたくて; I Want to Meet You)
[2004.12.08] 12-gatsu no Love song (12月のLove song)
[2005.01.26] Arittake no Ai de (ありったけの愛で; In Love As Much As One Has)
[2005.04.27] BLACK STONE
[2005.05.25] Metamorphoze (Metamorphoze~メタモルフォーゼ~)
[2005.08.10] Todokanai Ai to Shitteita no ni Osaekirezu ni Aishitsuzuketa… (届カナイ 愛ト知ッテイタノニ 抑エキレズ
ニ愛シ続ケタ…; I Knew This Love Wouldn't Reach You, But I Still Continue to Love You Uncontrollably…)
[2006.01.25] REDEMPTION
[2006.03.01] Love Letter
[2007.02.07] No ni Saku Hana no You ni (野に咲く花のように; Like a Flower Blooming on the Plains)
[2007.06.20] RETURNER ~Yami ni Shuuen~ (RETURNER ~闇の終焉~; The End of Darkness)
[2008.12.03] Jesus
[2009.01.28] GHOST
[2009.03.25] Journey through the Decade
[2009.06.10] Koakuma Heaven (小悪魔ヘヴン; Little Devil Heaven)
[2009.06.17] Faraway ~Hoshi ni Negai wo~ (Faraway ~星に願いを~; Wish Upon a Star)
[2009.06.24] LOST ANGELS
[2009.07.01] Flower
[2009.08.05] The Next Decade
[2009.12.09] Setsugekka -The end of silence- / ZAN (雪月花 -The end of silence- / 斬~ZAN~; Snow, Moon, or
Flowers / Decapitation)
[2010.01.01] Stay the Ride Alive
[2010.07.28] EVER
[2011.07.13] Episode.0
[2011.11.30] Graffiti
[2012.02.22] UNTIL THE LAST DAY
[2012.10.10] HAKURO (白露-HAKURO-; White Dew)
[2012.12.19] WHITE LOVERS -Shiawase na Toki- (幸せなトキ; Time of Happiness)
[2014.02.12] P.S. I LOVE U
[2014.10.01] Akatsuki Zukiyo -DAY BREAKERS- (暁月夜 -DAY BREAKERS-; Moonlit Dawn)
[2015.10.07] ARROW
Digital Singles
[2013.07.03] CLAYMORE
[2013.07.03] Sakura, Chiru… (サクラ、散ル・・・)
[2015.12.16] Hana mo Chiyu (花も散ゆ)
Download Links
~How to Download?~
Please buy official/original to support the artists, all content in this web is for promotional purpose only, we dont responsible for all users.