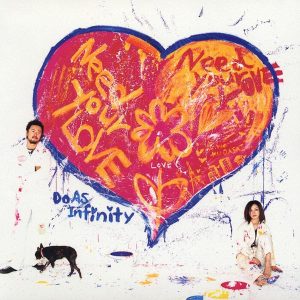 Artist:
Category:
Added:
December 4, 2014
Updated:
3 years ago
View:
2,514 views
Comment:
0 comments
Do As Infinity – NEED YOUR LOVE (Download)
Download Do As Infinity – NEED YOUR LOVE [Album]
Information
NEED YOUR LOVE is the sixth studio album released by Do As Infinity. Four versions were released: two limited versions, each with a DVD and a different t-shirt (Van Tomiko (women's size) or Owatari Ryo (men's size)), a CD+DVD version, and a normal CD-only version. "BE FREE" was the theme song for the TV show Super Football PLUS while "Yotaka no Yume" was used as the opening theme of Zoids Genesis. The album reached #3 on the Oricon weekly charts and charted for 14 weeks, selling 137,000 copies.
Artist
Album
Released
Catalog Number
Tracklist
For the future
Blue
BE FREE
Rakuen (楽園; Paradise)
Ever…
one flesh
ROBOT
Yotaka no Yume (夜鷹の夢; Dream of the Nighthawk)
Ultimate G.V
Need your love
Na no Hanabatake (菜ノ花畑; Vegetable Garden)
Hiiragi (acoustic ver.) (柊; Holly)
Download Do As Infinity – NEED YOUR LOVE [Album]