Dempagumi.inc Discography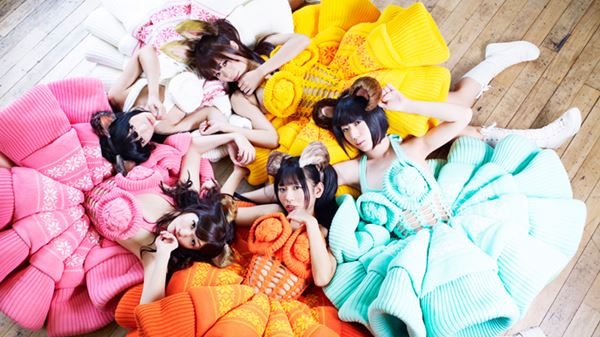 Dempagumi.inc (でんぱ組.inc) is a Japanese pop idol group under the label MEME TOKYO. The group formed in 2008 performing daily on Akihabara's DearStage live bar. In December that same year they released their debut single, "Mirror Magic?", under the indies label DearStage Records as Dempagumi (でんぱ組). Then in 2010 they released their major debut, the joint single "Kiss+kiss de Owaranai / Star☆tin'", under the label Lantis.
In 2011, they changed labels once again to MEME TOKYO before releasing the single "Future Diver".
Albums
Live Albums
[2012.01.22] Dempagumi.inc 1st One Man LIVE CD ~Dempa Life wa Owaranyo!~ (でんぱ組.inc 1stワンマン LIVE CD~でんぱLIFEはおわらんよっ!~)
[2016.01.06] WORLD TOUR 2015 in FUJIYAMA
Singles
[2008.12.??] Mirror Magic? (Indies) (Dempagumi)
[2011.07.06] Piko Piku Pikatte Koishite yo (ピコッピクッピカッて恋してよ)
[2011.11.16] Future Diver
[2012.05.23] Demparade JAPAN / Tsuyoi Kimochi Tsuyoi Ai (でんぱれーどJAPAN/強い気持ち・強い愛)
[2012.07.18] Kirakira Tune / Sabotage (キラキラチューン)
[2013.01.16] W.W.D / Fuyu e to Hashiridasuo! (冬へと走りだすお!)
[2013.05.29] Denden Passion (でんでんぱっしょん)
[2013.10.02] W.W.D Ⅱ
[2014.03.12] Sakura Apparition (サクラあっぱれーしょん)
[2014.05.14] Dear Stage e Yokoso (Dear☆Stageへようこそ♡)
[2014.07.30] Chururi Chururi ra (ちゅるりちゅるりら)
[2014.11.26] Dempari Night (でんぱーりーナイト)
[2015.03.25] Chouzetsu Ultra☆Happy Days / Gidagida da Zubazuba da!! (超絶ウルトラ☆Happy Days / ギダギダdaズバズバda!!) (Dempagumi.inc x Ultra Battle Retsuden)
[2015.04.29] PUNCH LINE! (Shokotan♥Dempagumi)
[2015.06.17] Otsukare Summer! (おつかれサマー!)
[2015.09.16] Ashita Chikyuu ga Konagona ni Natte mo (あした地球がこなごなになっても; Even If Tomorrow the Earth Is Shattered)
[2015.12.18] Dem Dem X'mas
[2016.01.08] Yabu! To the Future (破!to the Future)
Download Links
~How to Download?~
Please buy official/original to support the artists, all content in this web is for promotional purpose only, we dont responsible for all users.